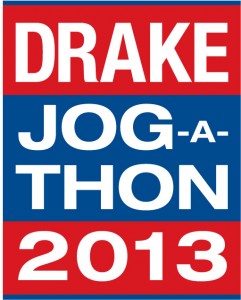 Dear Parents,
It is time for the fifth annual Jenkintown Drake Jog-A-Thon! The Jog-A-Thon is fast becoming a tradition at Jenkintown and is one of our biggest fundraisers. This is a great opportunity to promote healthy exercise, while raising money to support field trips, college scholarships, teacher mini-grants and much more!
HERE IS WHAT YOU NEED TO KNOW FOR A SUCCESSFUL JOG-A-THON:
• Ask for pledges and record on pledge sheet: Students will run for 30 minutes on the track, which is 0.2 miles. Averages by class are listed to the left. Pledges may be made per lap, or as a flat donation.
• Send pledge request letters to relatives/friends: Students may complete these letters at school or at home, and the Sponsor Sneaker will be hung on the wall to showcase all our support. You simply fold, stamp and mail them. Donations will be sent to your child and turned in with the rest of his/her pledge money. You may also email the pledge request by visiting Jenkintown.org and going to the "Jog-A-Thon" page under "Home and School."
• Send child in comfortable shoes and clothes on October 22th: Come and cheer them on!
An exact schedule will be sent shortly. There will be a snack for all participants. Rain date is Friday, October 25th.
• Collect money: We'll send home a paper with number of laps your child completed. Please help your child collect the money, and turn it in by November 15th. Donations can also be made on-line at www.jenkintown.org. Click on "Home and School" and then the "Jog-A-Thon" link.
NEW THIS YEAR! We will have a friendly RED vs. BLUE competition. The COLOR that raises the most money will win bragging rights and all the teachers will wear that COLOR for a day, once all the money is calculated. You are encouraged to send your child in RED or BLUE the day of the Jog-A-Thon and also on the day the teachers are wearing the winning COLOR (date to be announced).
Please note that Kindergarteners will not be included in the tally since many are not assigned to a color yet — they can wear RED and BLUE on both days!
If you have any questions please contact: Jennifer Black Kostacos at mannjennk@aol.com
Thank you in advance for your generosity and support!